The Process
Although my work appears to be highly realistic and perhaps, in a sense, photographic, I do not consider myself to be a PhotoRealist artist. Working from real life and photos, my aim is always to bring out the true essence and soul of the subjects I paint. My goal is to make them come alive -- to make them breathe.
I am known for presenting my subjects as powerful and strong images in straight-forward frontal or straight-on side views.
I work in a very loose, unorthodox manner -- the paintings are composed of abstract elements -- non-objective in certain areas, surreal in others -- all combined with a unique layering process to produce what appears to be a real image, yet is totally abstract in its process, techniques and execution.
This process, along with the experimental paint, gives the artwork a 3-dimensional effect which cannot be achieved or duplicated with traditional paint mediums.
8 Base Colors
Working on hi-tech fabricated aluminum panels, utilizing a state-of-the-art waterborne paint, Axalta Cromax AT, I have developed a unique technique and multi-layering process that combines industrial paint technology with traditional brush work.
Layering
The process involves the application of dozens of layers of transparent paint -- pure color over pure color -- no colors are premixed (example, blues over yellows to produce green). No more than 8-10 pure colors are utilized to produce an entire painting. I apply wet over dry, wet into wet, however, each individual layer allows the previous layer to show through. Up to 25 layers or more are applied.
Clear Coat and Finish
The painting is given a clear coat which I then wet sand. One final clear coat is applied, and the layering process becomes quite evident. The colors refract, showing and blending through one another, giving the paintings a look and feel, a brilliance, a depth and saturation of color, and a luminosity and surface finish unlike anything seen so far in fine art.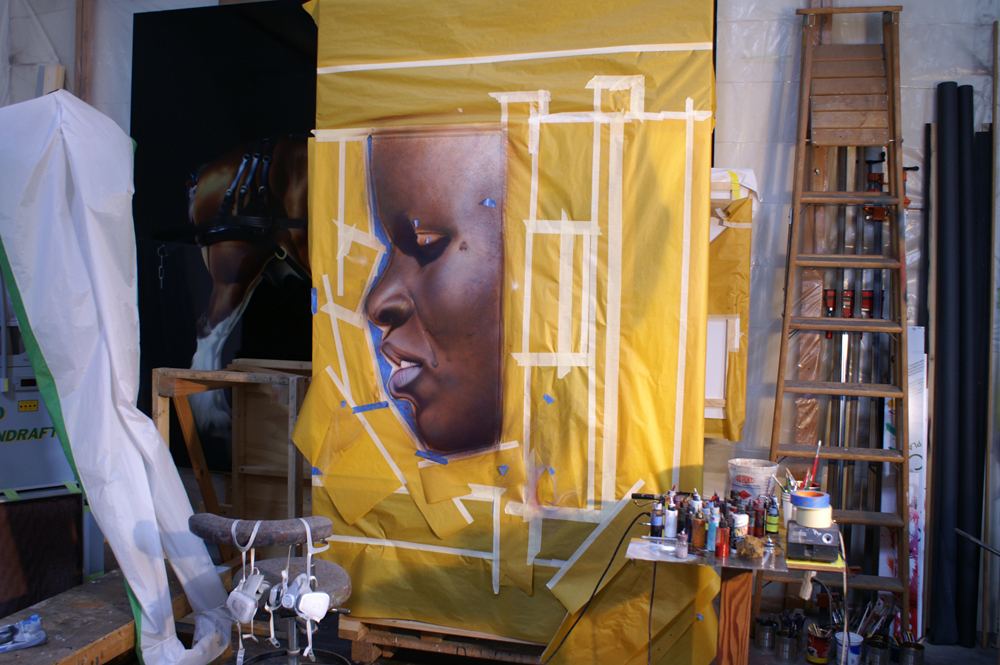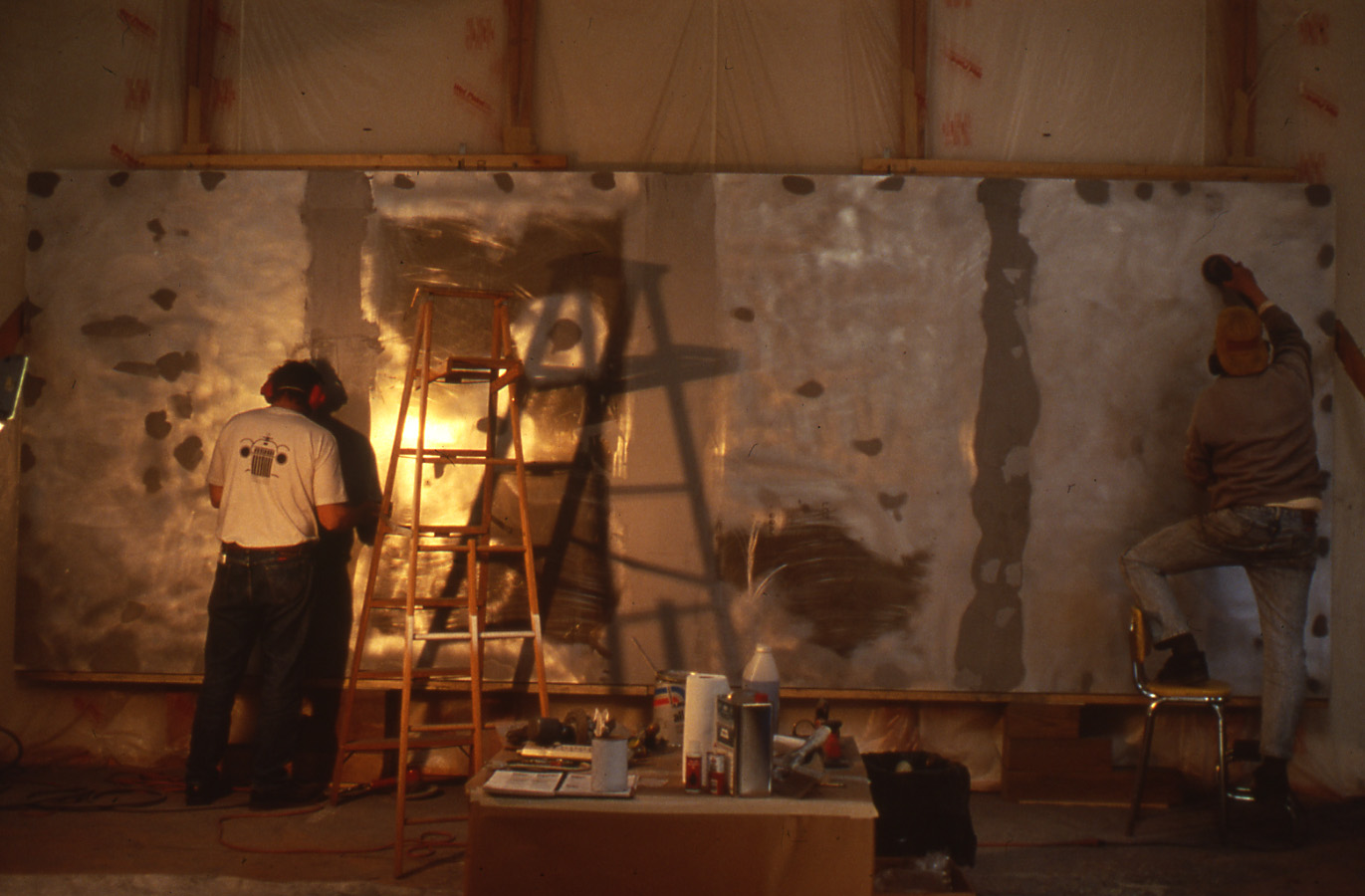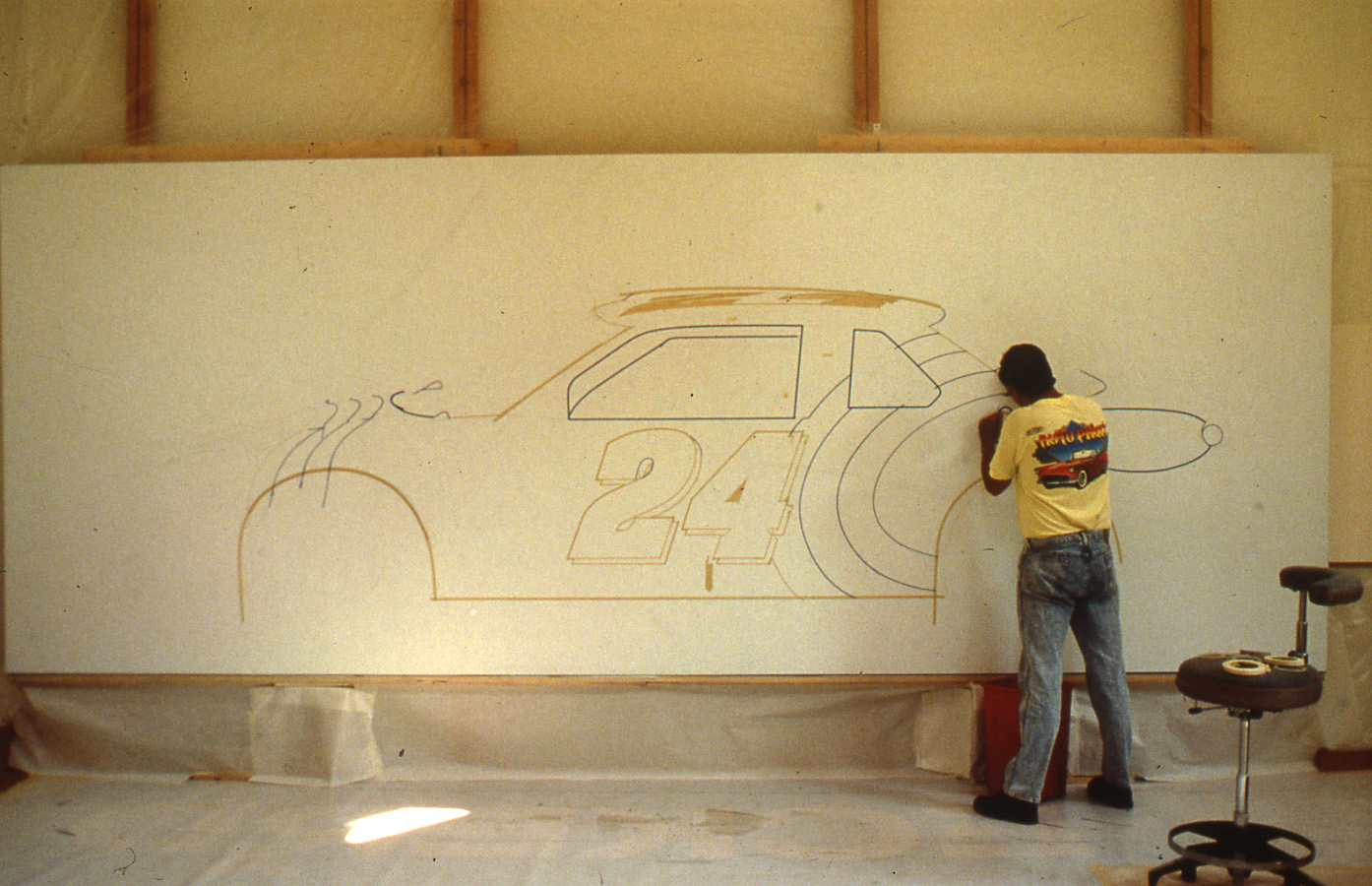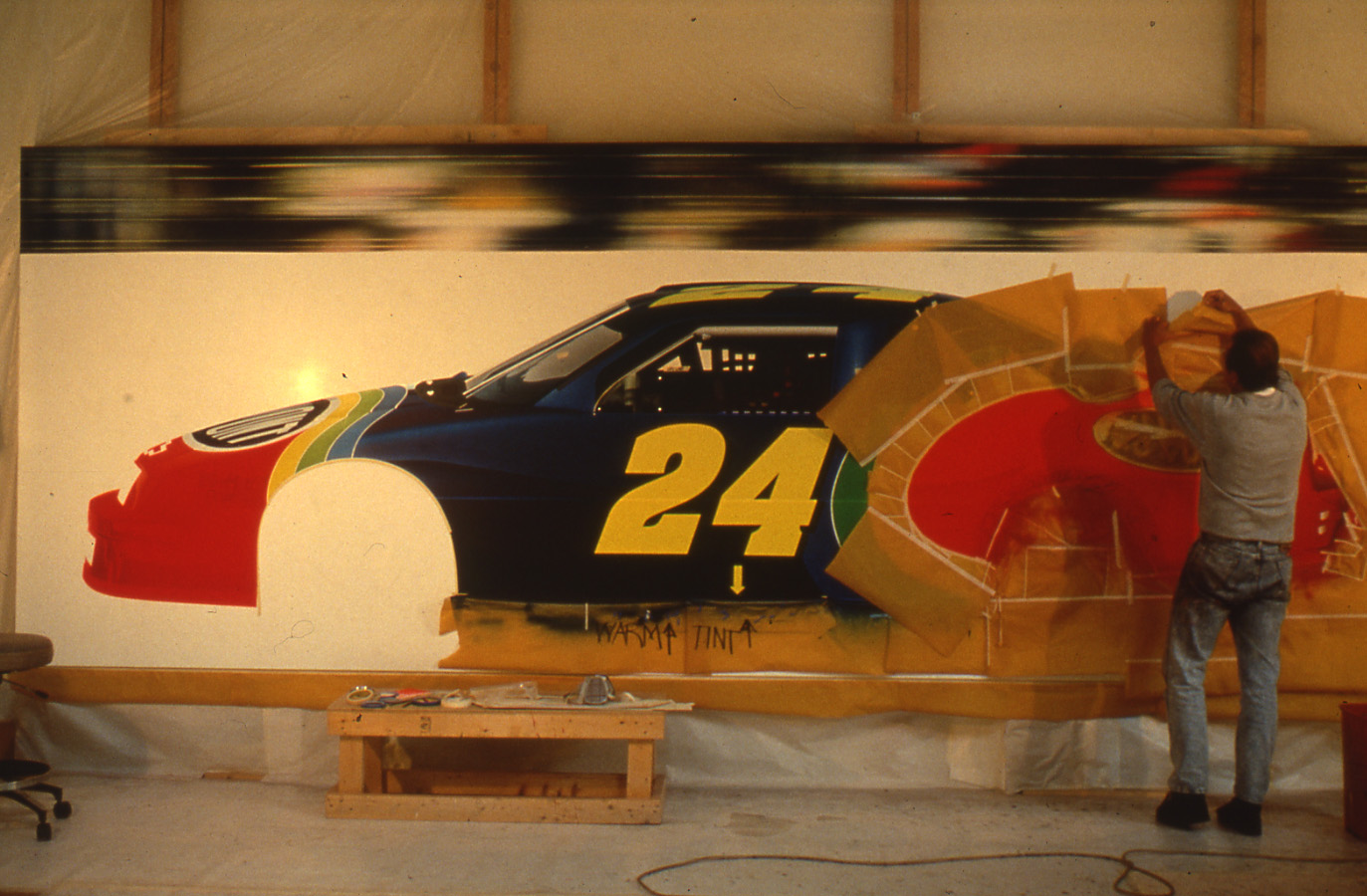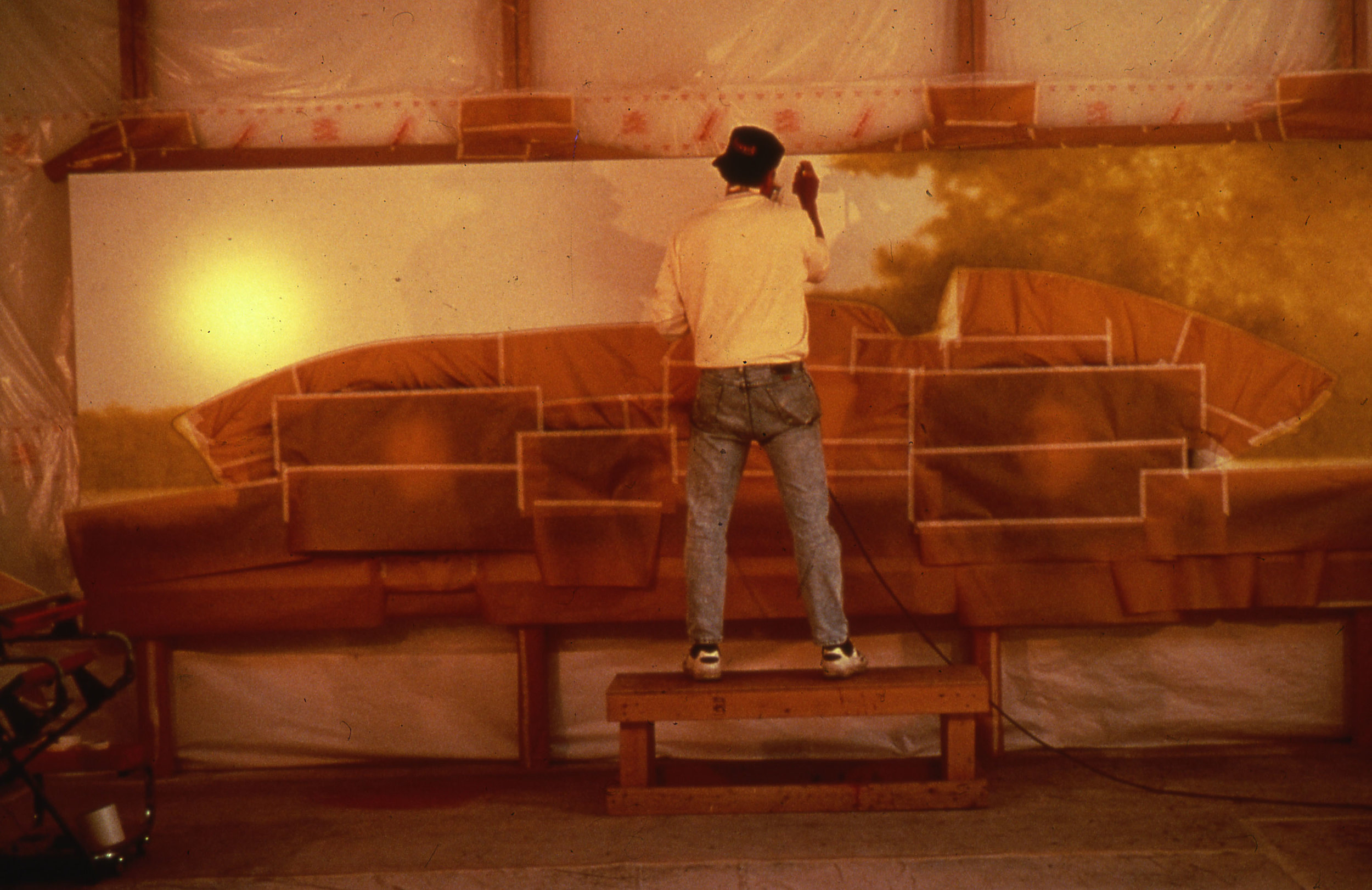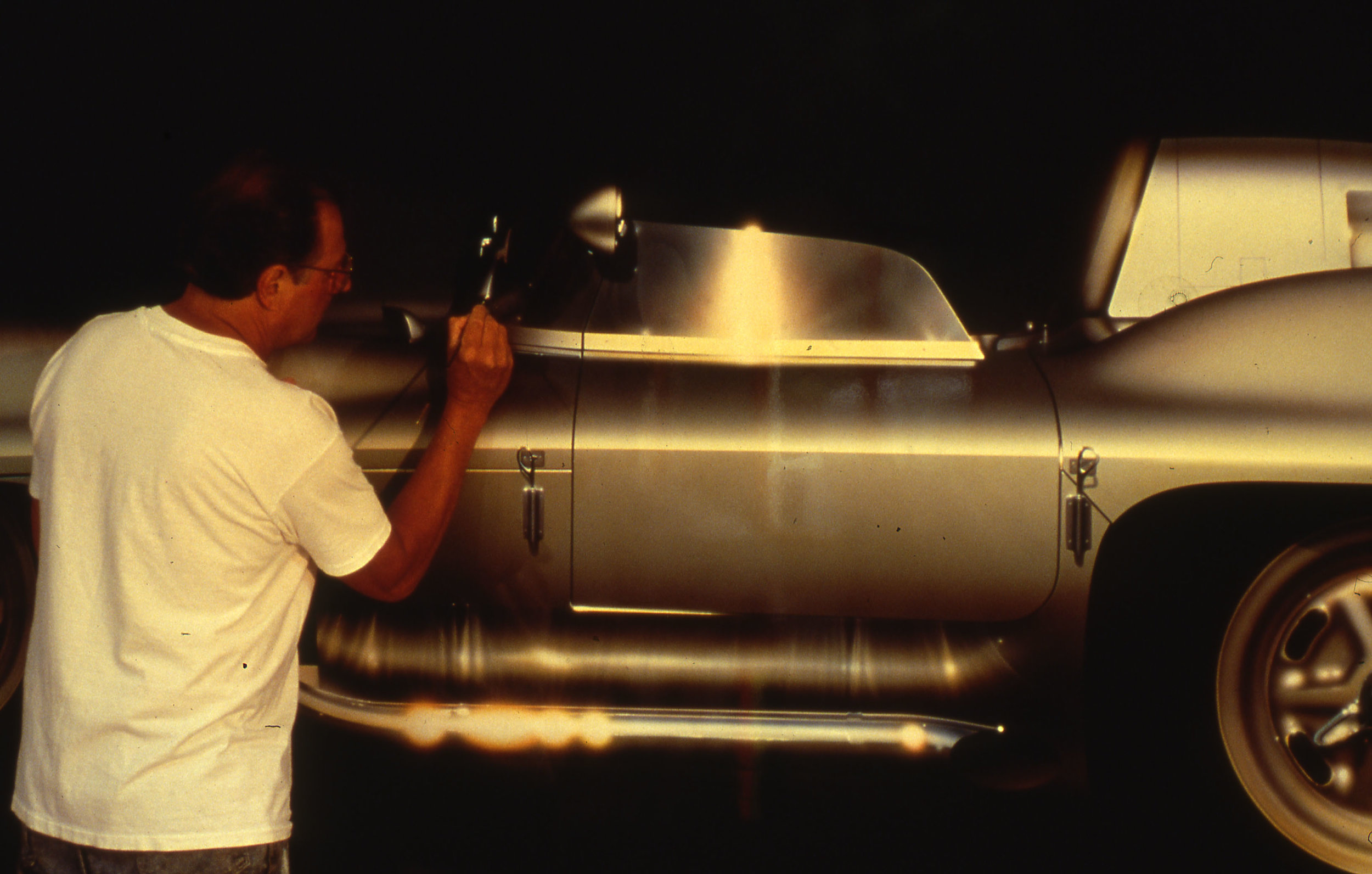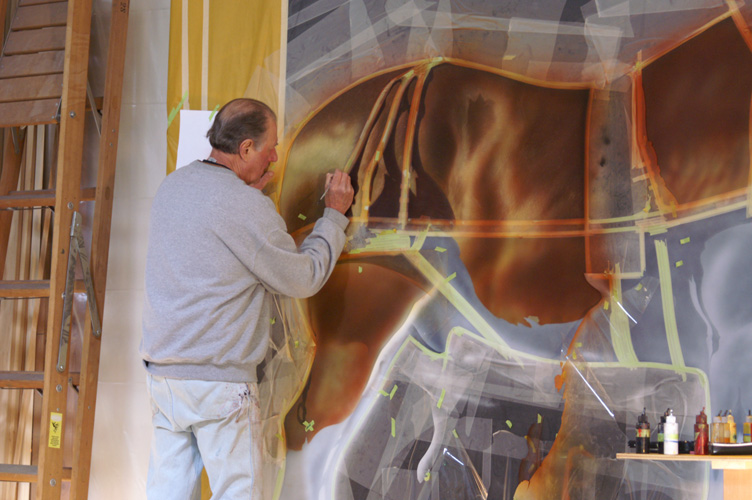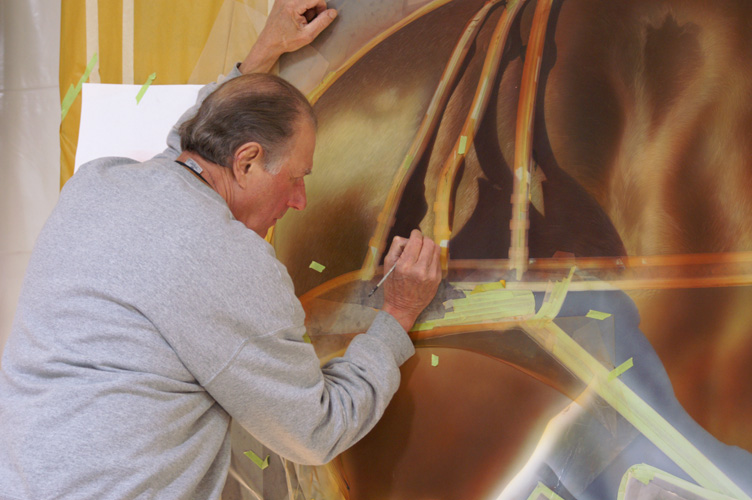 The Paint
After leaving GM in 1980, I wanted to paint the Automobile as a true fine art subject in a full scale, life-size format using actual automotive paint. Utilizing the Automobile as subject, I developed a concept, innovative multi-layering process, and unorthodox techniques with this new paint medium that no other artist has explored to date.
Once I knew these experimental waterborne automotive paints produced the results I was after, I expanded my subject matter to include human, animal and the inanimate. My association within the automotive industry led me to contact the DuPont Paint Division, when I became aware that they were developing a state-of-the-art environmentally friendly waterborne automotive paint.
After approaching DuPont in 1991 and explaining what I had in mind in terms of using this paint as a fine art medium, I then met with two DuPont Vice Presidents—both were reluctant, but quite intrigued with my concept. After seriously considering what I had in mind, I was given the entire set of experimental tint colors on a hand shake—this was highly unusual since DuPont had never released any experimental product to anyone outside of the company since its inception when Dupont first made gun powder for the American Revolutionary Forces.
AXALTA COATING SYSTEMS PURCHASED DUPONT'S PAINT DIVISION, AND NOW SUPPLIES ME PERSONALLY WITH THESE PAINTS.
VOC compliant, one-component, ultra-productive waterborne basecoat that delivers single-visit application with 1.5-coat coverage for the majority of colors and no flash time between coats to reduce steps in the repair process. It is ideal for spot, panel and overall repairs. Solid, metallic and pearl colors are clean and bright to easily and accurately match OEM finishes
Check out my Instagram account for more images from the studio!